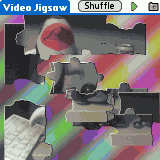 See full video (47 sec, 959K)
Video Jigsaw

Entire world is a jigsaw puzzle!


Video Jigsaw takes live video from the Treo camera and makes the jigsaw puzzle of it. When used without a camera it switches to the built-in animation - randomly generated "city" view with fireworks and spotlights reflecting in water.
On most new devices you can also use the third option - turn your personal photos into puzzles (requires the Palm/PalmOne Media application or Tapwave Zodiac Photos application)

Of course this application is completely useless, except that everyone should try it at least once to experience this unusual feeling of dragging fragments of the reality ;-)
Download
Price?
This toy is Freeware! Enjoy! And please send me a postcard if you like it :-)


Szymon Ulatowski
ul.Rzadzkiego 48
36-100 Kolbuszowa
Poland

Guide
Selecting image source
Click the icon in the top right corner and select one of 3 options:

Built-in Animation
Available on all devices.
This animation is meant as a replacement for live video on devices where the camera is not supported. You will get a slightly different view each time you start the puzzle, because the skyscrapers and all moving elements are placed randomly.
The animation can be paused by clicking the green triangle ("play" button).

Select Picture
Just select a photo from your personal collection and turn it into a jigsaw puzzle. Does not work on video clips, even if your Media application supports it.
This feature is available on:
- recent Palm/PalmOne devices equipped with Media application (i.e. most Tungsten and Zire models, LifeDrive, Treo 650 and 600)
- Tapwave Zodiac


Live Camera
The coolest feature - make a jigsaw from a live video from your camera!
Requires Treo 600 or 650.
The live video can be paused by clicking the green triangle ("play" button).


Restarting game
Click the Shuffle button to start a new puzzle

Selecting difficulty
Use menu to select one of 5 difficulty levels.


Randomness
Did you know? Each time you start a puzzle the pieces are cut in a different way, a different background pattern is created and (in case of the built-in animation) skyscrapers are ordered differently!
Crazy usage tips
Boring TV shows can be entertaining again! - help the newsman regain his shape before he finishes talking!
The other queue always moves faster than yours, but that's good - it gives you more time to solve the puzzle of your shopping cart before the checkout!
Meet new people using this perfect ice breaker! "Hi, please help, where should I put your ear? It fits nowhere..."
Known bugs
Erroneous black pixels are occasionally visible where the pieces meet
Technical Issues
As far I know, of all camera equipped Palm devices, only Treo 650 API allows for processing the live video from camera without displaying it on the screen. This is crucial feature, because unlike all other video applications for taking photos or recording clips, in Video Jigsaw you can't have a preview on the screen - the whole point of this application is to display something different from what the camera can see.
Note that this restriction only applies to the official API, I guess the hardware is capable of doing this on any device, and the only problem is that no one knows how to do it... Fortunately, on Treo 600 it was relatively easy to control the CPU DMA directly and feed the video into application instead of displaying it on the screen, so the number of compatible devices was increased twofold ;-)
If you know how to achieve similar result on other devices and want to see them supported in Video Jigsaw - tell me.

Converting photos into puzzles is technically possible on all devices, but for now it is only implemented on Palm/PalmOne and Zodiac, because those devices come with standard components for managing photos. Handling generic JPEG images from the card might be added in the future.
More screenshots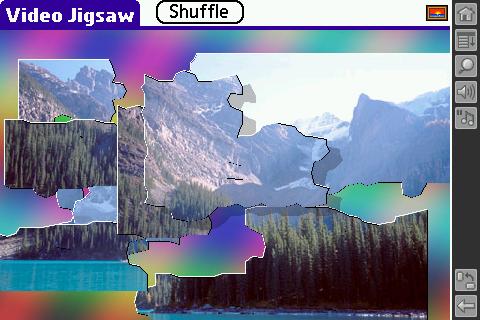 Zodiac wide screen
Using the standard Zodiac "Moraine+Rays" photo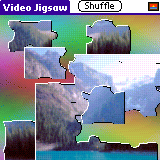 Low resolution
Same photo on Treo 600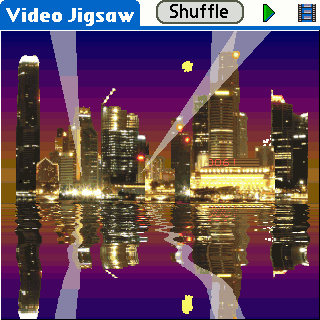 Built-in animation (Treo 650)
On the actual device the animation
is generated algorithmically so it is ideally
fluent and does not loop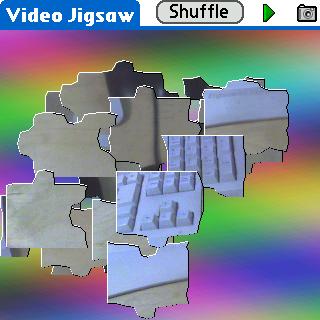 Treo 650
High resolution video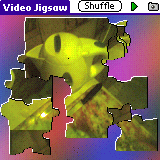 Treo 600
Low resolution video with the usual
Treo 600 "out of this world" color handling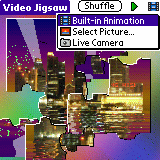 Treo 600
Low resolution version of the animation
(C)2006 Szymon Ulatowski @
More from
TOYSPRING: