9 Oct 2009
-
Arcade Reality for iPhone
Arcade Reality is now

available in the AppStore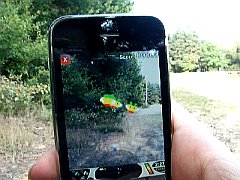 Unlike the Palm version, it uses compass and accelerometer for detecting motion (because iPhone applications are not allowed to read live video from camera). This means you need the new iPhone 3GS to play the game.

See it on YouTube!
Compatibility
Currently the game is compatible with the following devices:

iPhone 3GS
Palm Centro
Palm Treo 755P
Palm Treo 700P
Palm Treo 680
Palm Treo 650
Free evaluation version

Download Arcade Reality for Palm
- ArcadeReality-1.2.prc, 805 KB, version 1.2 (for Palm)
This version lets you enter the world of Arcade Reality, but not all levels and game modes can be played.
Please purchase the full version to see more :-)
Older versions: ArcadeReality-1.0.prc, ArcadeReality-1.1.prc
The full version

Go to AppStore for iPhone version

Purchase Palm version

All future upgrades are free regardless of any price changes for new versions!
Frequently Asked Questions
Q: Does it work on Zire 72? Treo 600? Windows Mobile Treos?
A: No, it's only for the high resultion PalmOS-based Treo models. I'm working on supporting more devices :-)
Q: How to upgrade?
A: Just install the new version without deleting the previous one (this will automatically preserve your highscores, settings, and the registration status).
Q: How do I know when there is a new version available?
A: Subscribe to this

RSS feed to get information about the Arcade Reality updates or

this one if you are interested in other Toyspring games as well. (What is RSS?)
History
29 Jun 2007
-
Arcade Reality Competition - Win $150 !
Post the BEST Arcade Reality Video and win $150 of ClickPayGo Gift Vouchers.
Rules:
Comment on

this Clickgamer blog (free ClickPayGo account required) adding your video in order to enter the competition

Post the most interesting, amusing, scary video (etc) - anything to impress the judges

Don't forget to make use of the new Arcade Reality custom aliens feature

The deadline is 1st August 2007

Judges decision are final

Competition is open to everyone - no purchase necessary

Links:


Clickgamer blog

Arcade Reality on YouTube
22 Jun 2007
-
Arcade Reality v1.2 Released
Changes:
Customization - turns any objects into Arcade Reality aliens!
- Use the camera or any previously taken photo
- Create multiple alien sets
- Share with your friends via bluetooth or email

New titlebar

improved low memory conditions handling



See it on YouTube!
28 Feb 2007
-
Arcade Reality v1.1
Changes:

bitmap aliens now explode in a much more enjoyable way

aliens which are almost dead (one laser shot to kill) show their damage by emitting smoke

autotargetting option - makes the ship or RC rocket automaticaly turn toward the target when there is a green targetting rectangle (this is meant as a way to make the asteroids mode easier)

you can use the treo side button to fire

reverse up/down controls option

asteroids mode game space is now slightly smaller (=easier)